Analysts Set Clinigen Group PLC (CLIN) Price Target at $1,258.00
Clinigen Group PLC (LON:CLIN) has earned a consensus rating of "Buy" from the six brokerages that are covering the stock, Marketbeat reports. Five equities research analysts have rated the stock with a buy rating and one has given a strong buy rating to the company. The average 1 year price target among analysts that have issued a report on the stock in the last year is GBX 1,258 ($16.44).
Several brokerages have recently commented on CLIN. Peel Hunt reaffirmed a "buy" rating on shares of Clinigen Group in a report on Wednesday, August 1st. Numis Securities reaffirmed a "buy" rating on shares of Clinigen Group in a report on Wednesday, July 25th. UBS Group reaffirmed a "buy" rating and set a GBX 1,160 ($15.16) target price on shares of Clinigen Group in a report on Thursday, September 27th. Finally, Royal Bank of Canada reissued a "top pick" rating and set a GBX 1,470 ($19.21) price target (up from GBX 1,360 ($17.77)) on shares of Clinigen Group in a research report on Monday, October 15th.
Shares of LON CLIN opened at GBX 902.50 ($11.79) on Friday. Clinigen Group has a 12 month low of GBX 751.50 ($9.82) and a 12 month high of GBX 1,187 ($15.51).
The firm also recently declared a dividend, which will be paid on Friday, November 30th. Investors of record on Thursday, November 8th will be given a dividend of GBX 3.84 ($0.05) per share. This represents a yield of 0.46%. This is a positive change from Clinigen Group's previous dividend of $1.76. The ex-dividend date of this dividend is Thursday, November 8th.
Clinigen Group Company Profile
Clinigen Group plc operates as a specialty pharmaceutical and services company. Its Clinigen Clinical Trial Services segment supplies and manages commercial medical products for use in clinical studies, including comparator drugs, adjuvant drugs, and rescue therapies. The company's Idis Managed Access segment is involved in the consultancy, development, management, and implementation of managed access programs for biotechnology and pharmaceutical companies.
Recommended Story: Earnings Per Share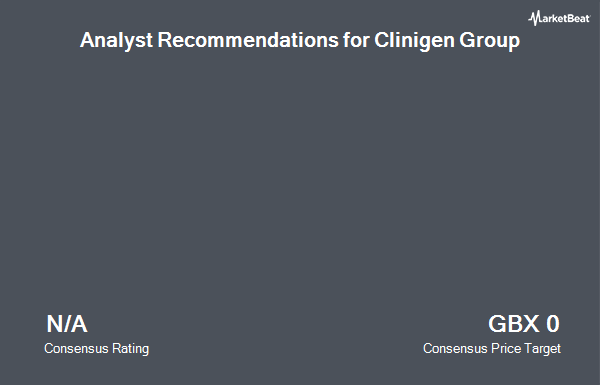 Receive News & Ratings for Clinigen Group Daily - Enter your email address below to receive a concise daily summary of the latest news and analysts' ratings for Clinigen Group and related companies with MarketBeat.com's FREE daily email newsletter.