Genprex (GNPX) Issues Quarterly Earnings Results, Misses Estimates By $0.02 EPS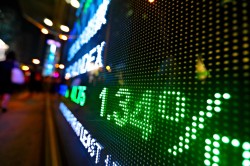 Genprex (NASDAQ:GNPX) issued its quarterly earnings results on Tuesday. The company reported ($0.15) EPS for the quarter, missing the consensus estimate of ($0.13) by ($0.02), Yahoo Finance reports.
Shares of GNPX traded down $0.03 during mid-day trading on Wednesday, hitting $1.32. The company's stock had a trading volume of 86 shares, compared to its average volume of 26,484. Genprex has a 52-week low of $1.26 and a 52-week high of $19.45.
Separately, Maxim Group initiated coverage on shares of Genprex in a report on Friday, September 14th. They set a "buy" rating and a $5.00 price target on the stock.
WARNING: This article was originally reported by Daily Political and is the property of of Daily Political. If you are viewing this article on another site, it was copied illegally and republished in violation of United States & international copyright and trademark laws. The legal version of this article can be read at https://www.dailypolitical.com/2018/11/21/genprex-gnpx-issues-quarterly-earnings-results-misses-estimates-by-0-02-eps.html.
Genprex Company Profile
Genprex, Inc, a clinical stage gene therapy company, develops drugs to treat cancer. Its lead product candidate is Oncoprex, an active anti-cancer agent that is in Phase II clinical trials for the treatment of non-small cell lung cancer (NSCLC). It also conducts preclinical research for developing Oncoprex to be administered with immunotherapies in NSCLC; and research into other tumor suppressor genes associated with chromosome.
Featured Story: How Investors Use a Balance Sheet
Receive News & Ratings for Genprex Daily - Enter your email address below to receive a concise daily summary of the latest news and analysts' ratings for Genprex and related companies with MarketBeat.com's FREE daily email newsletter.