ProShares UltraShort Dow30 (DXD) Shares Gap Up to $31.63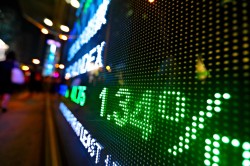 ProShares UltraShort Dow30 (NYSEARCA:DXD) gapped up before the market opened on Tuesday . The stock had previously closed at $30.75, but opened at $31.63. ProShares UltraShort Dow30 shares last traded at $33.05, with a volume of 4876401 shares changing hands.
A hedge fund recently bought a new stake in ProShares UltraShort Dow30 stock. Virtu Financial LLC bought a new stake in shares of ProShares UltraShort Dow30 (NYSEARCA:DXD) in the third quarter, according to its most recent 13F filing with the Securities & Exchange Commission. The fund bought 30,806 shares of the exchange traded fund's stock, valued at approximately $885,000. Virtu Financial LLC owned 0.71% of ProShares UltraShort Dow30 at the end of the most recent reporting period.
COPYRIGHT VIOLATION NOTICE: This piece was first reported by Daily Political and is the sole property of of Daily Political. If you are accessing this piece on another domain, it was stolen and reposted in violation of United States and international copyright and trademark law. The original version of this piece can be viewed at https://www.dailypolitical.com/2018/11/21/proshares-ultrashort-dow30-dxd-shares-gap-up-to-31-63.html.
About ProShares UltraShort Dow30 (NYSEARCA:DXD)
ProShares UltraShort Dow30 (the Fund), formerly UltraShort Dow30 ProShares, seeks daily investment results that correspond to twice (200%) the inverse (opposite) of the daily performance of the Dow Jones Industrial Average (DJIA). The DJIA is a price-weighted index maintained by editors of The Wall Street Journal.
Read More: Average Daily Trade Volume – What It Means In Stock Trading
Receive News & Ratings for ProShares UltraShort Dow30 Daily - Enter your email address below to receive a concise daily summary of the latest news and analysts' ratings for ProShares UltraShort Dow30 and related companies with MarketBeat.com's FREE daily email newsletter.