Patriot Transportation (PATI) Releases Earnings Results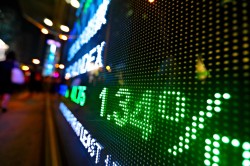 Patriot Transportation (NASDAQ:PATI) announced its earnings results on Wednesday. The transportation company reported $0.07 earnings per share (EPS) for the quarter, MarketWatch Earnings reports. Patriot Transportation had a net margin of 4.14% and a return on equity of 8.31%.
Shares of PATI opened at $19.98 on Thursday. The company has a market cap of $67.98 million, a PE ratio of 16.34 and a beta of -0.05. Patriot Transportation has a 12-month low of $16.72 and a 12-month high of $23.80.
Separately, TheStreet upgraded shares of Patriot Transportation from a "c+" rating to a "b" rating in a research report on Wednesday, August 1st.
COPYRIGHT VIOLATION NOTICE: "Patriot Transportation (PATI) Releases Earnings Results" was originally reported by Daily Political and is owned by of Daily Political. If you are viewing this piece of content on another domain, it was illegally stolen and republished in violation of U.S. & international copyright legislation. The correct version of this piece of content can be viewed at https://www.dailypolitical.com/2018/11/22/patriot-transportation-pati-releases-earnings-results.html.
Patriot Transportation Company Profile
Patriot Transportation Holding, Inc, through its subsidiary Florida Rock & Tank Lines, Inc, engages in the transportation business. The company is involved in hauling petroleum related products, including gas and diesel fuel; and dry bulk commodities, such as cement, lime and various industrial powder products, and liquid chemicals.
Further Reading: Balanced Fund
Receive News & Ratings for Patriot Transportation Daily - Enter your email address below to receive a concise daily summary of the latest news and analysts' ratings for Patriot Transportation and related companies with MarketBeat.com's FREE daily email newsletter.