StoneCo (STNE) Earns Buy Rating from Analysts at Citigroup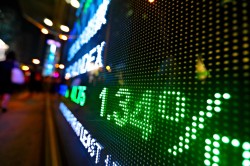 Citigroup initiated coverage on shares of StoneCo (NASDAQ:STNE) in a research report released on Monday, MarketBeat.com reports. The firm issued a buy rating and a $30.00 target price on the stock.
Separately, Goldman Sachs Group started coverage on shares of StoneCo in a research report on Monday. They issued a neutral rating and a $25.60 price objective on the stock.
NASDAQ:STNE opened at $22.34 on Monday. StoneCo has a 1-year low of $20.05 and a 1-year high of $32.50.
About StoneCo
StoneCo Ltd. provides financial technology solutions that empower merchants and integrated partners to conduct electronic commerce across in-store, online, and mobile channels in Brazil. It distributes its solutions, principally through proprietary Stone Hubs, which offer hyper-local sales and services; and technology and solutions to digital merchants through sales and technical personnel and software vendors.
See Also: How Short Selling Works

Receive News & Ratings for StoneCo Daily - Enter your email address below to receive a concise daily summary of the latest news and analysts' ratings for StoneCo and related companies with MarketBeat.com's FREE daily email newsletter.