Brokerages Expect Vereit Inc (VER) Will Announce Quarterly Sales of $289.18 Million
Wall Street analysts predict that Vereit Inc (NYSE:VER) will post $289.18 million in sales for the current quarter, Zacks Investment Research reports. Two analysts have issued estimates for Vereit's earnings. The highest sales estimate is $289.33 million and the lowest is $289.03 million. Vereit reported sales of $290.56 million in the same quarter last year, which would indicate a negative year over year growth rate of 0.5%. The company is scheduled to report its next quarterly earnings results on Thursday, February 28th.
On average, analysts expect that Vereit will report full year sales of $1.16 billion for the current financial year. For the next fiscal year, analysts anticipate that the firm will report sales of $1.16 billion. Zacks Investment Research's sales calculations are an average based on a survey of research analysts that follow Vereit.
Vereit (NYSE:VER) last announced its earnings results on Tuesday, November 6th. The financial services provider reported ($0.09) earnings per share (EPS) for the quarter, missing the consensus estimate of $0.18 by ($0.27). Vereit had a negative net margin of 11.51% and a negative return on equity of 1.53%. The business had revenue of $289.03 million for the quarter, compared to analysts' expectations of $291.19 million. During the same period in the prior year, the business earned $0.18 earnings per share. The company's revenue for the quarter was up 2.2% compared to the same quarter last year.
VER has been the subject of several research analyst reports. Mizuho set a $8.00 target price on Vereit and gave the company a "hold" rating in a research report on Monday, August 13th.
ValuEngine
upgraded Vereit from a "sell" rating to a "hold" rating in a research note on Saturday, August 18th. JPMorgan Chase & Co. increased their price target on Vereit from $8.00 to $9.00 and gave the stock an "overweight" rating in a research note on Monday, September 17th. Robert W. Baird assumed coverage on Vereit in a research note on Monday, October 22nd. They set an "outperform" rating and a $9.00 price target for the company. Finally,
Zacks Investment Research
upgraded Vereit from a "hold" rating to a "buy" rating and set a $8.50 price target for the company in a research note on Saturday, November 10th. Four analysts have rated the stock with a hold rating and three have issued a buy rating to the stock. The company currently has an average rating of "Hold" and an average target price of $8.70.
Hedge funds have recently bought and sold shares of the company. Verition Fund Management LLC bought a new position in shares of Vereit during the 3rd quarter worth $114,000. Capital Investment Advisory Services LLC bought a new position in Vereit in the 3rd quarter worth about $127,000. Qube Research & Technologies Ltd bought a new position in Vereit in the 2nd quarter worth about $130,000. HRT Financial LLC bought a new position in Vereit in the 3rd quarter worth about $149,000. Finally, Lourd Capital LLC bought a new position in Vereit in the 3rd quarter worth about $161,000. Institutional investors own 89.12% of the company's stock.
Shares of Vereit stock traded down $0.09 during trading hours on Wednesday, hitting $7.81. 8,152,873 shares of the company's stock traded hands, compared to its average volume of 7,950,628. Vereit has a 12-month low of $6.52 and a 12-month high of $8.09. The firm has a market cap of $7.64 billion, a PE ratio of 11.16, a P/E/G ratio of 4.61 and a beta of 0.53. The company has a debt-to-equity ratio of 0.75, a current ratio of 0.70 and a quick ratio of 0.70.
The company also recently declared a quarterly dividend, which will be paid on Tuesday, January 15th. Stockholders of record on Monday, December 31st will be paid a dividend of $0.1375 per share. The ex-dividend date of this dividend is Friday, December 28th. This represents a $0.55 annualized dividend and a dividend yield of 7.04%. Vereit's payout ratio is 78.57%.
About Vereit
VEREIT is a full-service real estate operating company which owns and manages one of the largest portfolios of single-tenant commercial properties in the U.S. The Company has a total asset book value of $14.3 billion including approximately 4,000 properties and 94.6 million square feet. VEREIT's business model provides equity capital to creditworthy corporations in return for long-term leases on their properties.
See Also: Calculate Your Return on Investment (ROI)

Get a free copy of the Zacks research report on Vereit (VER)
For more information about research offerings from Zacks Investment Research, visit Zacks.com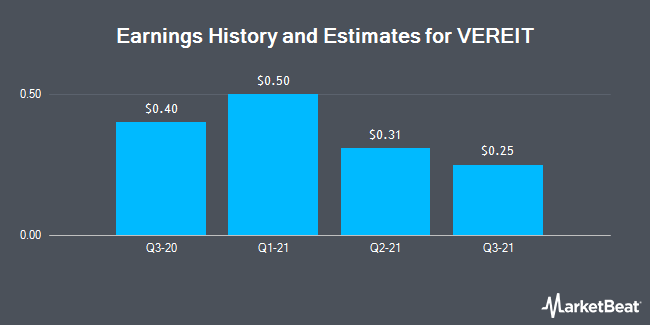 Receive News & Ratings for Vereit Daily - Enter your email address below to receive a concise daily summary of the latest news and analysts' ratings for Vereit and related companies with MarketBeat.com's FREE daily email newsletter.