Heritage Insurance Holdings Inc (HRTG) to Issue Quarterly Dividend of $0.06
Heritage Insurance Holdings Inc (NYSE:HRTG) declared a quarterly dividend on Thursday, November 1st, Wall Street Journal reports. Stockholders of record on Saturday, December 15th will be paid a dividend of 0.06 per share by the insurance provider on Friday, January 4th. This represents a $0.24 dividend on an annualized basis and a dividend yield of 1.59%. The ex-dividend date of this dividend is Thursday, December 13th.
Heritage Insurance has a dividend payout ratio of 16.0% meaning its dividend is sufficiently covered by earnings. Equities analysts expect Heritage Insurance to earn $1.95 per share next year, which means the company should continue to be able to cover its $0.24 annual dividend with an expected future payout ratio of 12.3%.
Shares of HRTG opened at $15.11 on Friday. Heritage Insurance has a one year low of $12.85 and a one year high of $19.15. The stock has a market capitalization of $413.90 million, a PE ratio of 9.88 and a beta of 1.20. The company has a quick ratio of 0.78, a current ratio of 0.78 and a debt-to-equity ratio of 0.46.
Heritage Insurance (NYSE:HRTG) last announced its quarterly earnings data on Wednesday, October 31st. The insurance provider reported $0.23 EPS for the quarter, beating analysts' consensus estimates of ($0.13) by $0.36. Heritage Insurance had a net margin of 3.92% and a return on equity of 13.85%. The company had revenue of $125.30 million during the quarter, compared to the consensus estimate of $123.59 million. On average, research analysts forecast that Heritage Insurance will post 1.18 earnings per share for the current fiscal year.
In related news, CEO Bruce Lucas bought 5,000 shares of Heritage Insurance stock in a transaction that occurred on Monday, November 5th. The stock was acquired at an average price of $16.05 per share, with a total value of $80,250.00. Following the acquisition, the chief executive officer now owns 1,001,873 shares of the company's stock, valued at approximately $16,080,061.65. The purchase was disclosed in a legal filing with the Securities & Exchange Commission, which can be accessed through this hyperlink. Insiders have purchased a total of 24,182 shares of company stock valued at $390,958 in the last ninety days. 25.30% of the stock is currently owned by insiders.
A number of research analysts have recently commented on the stock. Citigroup decreased their price objective on shares of Heritage Insurance from $17.00 to $16.50 and set a "buy" rating for the company in a research report on Friday, October 12th. Zacks Investment Research raised shares of Heritage Insurance from a "strong sell" rating to a "hold" rating in a report on Wednesday, October 3rd. TheStreet raised shares of Heritage Insurance from a "c+" rating to a "b" rating in a report on Thursday, November 15th. Finally, ValuEngine raised shares of Heritage Insurance from a "sell" rating to a "hold" rating in a report on Wednesday, October 31st. Three research analysts have rated the stock with a hold rating and four have given a buy rating to the company. The company currently has a consensus rating of "Buy" and an average price target of $19.92.
TRADEMARK VIOLATION NOTICE: This news story was reported by Daily Political and is the property of of Daily Political. If you are reading this news story on another publication, it was illegally stolen and republished in violation of United States & international copyright & trademark law. The correct version of this news story can be viewed at https://www.dailypolitical.com/2018/12/08/heritage-insurance-holdings-inc-hrtg-to-issue-quarterly-dividend-of-0-06.html.
Heritage Insurance Company Profile
Heritage Insurance Holdings, Inc, through its subsidiaries, provides personal and commercial residential insurance products. The company offers personal residential property insurance for single-family homeowners and condominium owners; rental property insurance; and commercial residential insurance, as well as residential wind-only property insurance in Alabama, Connecticut, Florida, Georgia, Hawaii, Massachusetts, New York, New Jersey, North Carolina, Rhode Island, and South Carolina.
Read More: Market Capitalization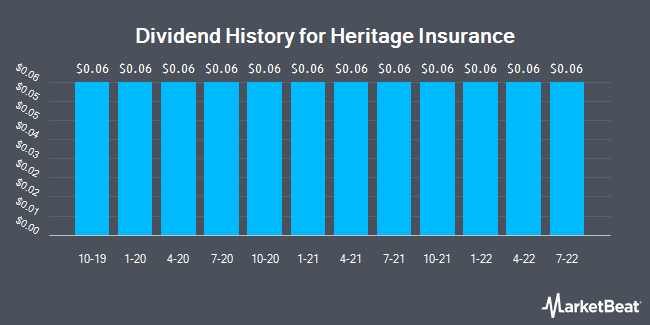 Receive News & Ratings for Heritage Insurance Daily - Enter your email address below to receive a concise daily summary of the latest news and analysts' ratings for Heritage Insurance and related companies with MarketBeat.com's FREE daily email newsletter.