Severn Trent Plc (SVT) Receives GBX 2,096 Average Price Target from Analysts
Severn Trent Plc (LON:SVT) has been assigned an average rating of "Hold" from the eight ratings firms that are covering the company, Marketbeat reports. One investment analyst has rated the stock with a sell recommendation, five have assigned a hold recommendation and two have given a buy recommendation to the company. The average 12 month price objective among brokerages that have issued a report on the stock in the last year is GBX 2,096 ($27.39).
Several brokerages recently weighed in on SVT. Royal Bank of Canada lowered Severn Trent to an "outperform" rating and cut their target price for the stock from GBX 2,650 ($34.63) to GBX 2,250 ($29.40) in a research report on Monday, November 26th. UBS Group reaffirmed a "neutral" rating on shares of Severn Trent in a research report on Friday, November 23rd. JPMorgan Chase & Co. reaffirmed an "overweight" rating on shares of Severn Trent in a research report on Friday, November 23rd. Deutsche Bank reaffirmed a "hold" rating on shares of Severn Trent in a research report on Tuesday, November 13th. Finally, Goldman Sachs Group increased their target price on Severn Trent from GBX 1,764 ($23.05) to GBX 1,780 ($23.26) and gave the stock a "sell" rating in a research report on Monday, September 17th.
Shares of SVT stock traded up GBX 7.50 ($0.10) during mid-day trading on Monday, hitting GBX 1,861 ($24.32). 1,973,241 shares of the company's stock were exchanged, compared to its average volume of 1,100,000. Severn Trent has a fifty-two week low of GBX 1,664 ($21.74) and a fifty-two week high of GBX 2,575 ($33.65).
The company also recently announced a dividend, which will be paid on Friday, January 4th. Investors of record on Thursday, November 29th will be given a GBX 37.35 ($0.49) dividend. This represents a dividend yield of 1.97%. The ex-dividend date of this dividend is Thursday, November 29th.
Severn Trent Company Profile
Severn Trent Plc operates as a water and sewerage company in the United Kingdom and internationally. The company operates through two segments, Regulated Water and Waste Water, and Business Services. The Regulated Water and Waste Water segment provides water and sewerage services to approximately 4.3 million households and businesses in the Midlands and mid-Wales.
Featured Story: What is a Roth IRA?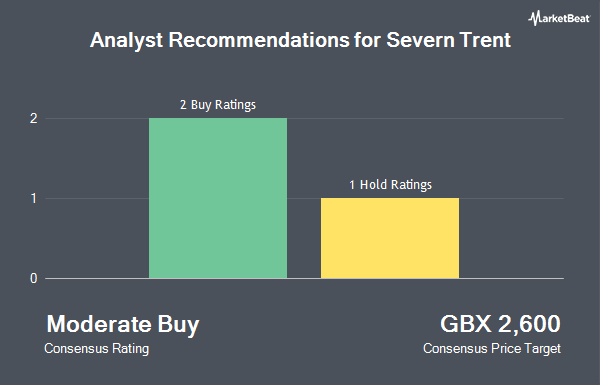 Receive News & Ratings for Severn Trent Daily - Enter your email address below to receive a concise daily summary of the latest news and analysts' ratings for Severn Trent and related companies with MarketBeat.com's FREE daily email newsletter.