Rentokil Initial (RTO) Price Target Raised to GBX 400 at Credit Suisse Group
Rentokil Initial (LON:RTO) had its price objective lifted by Credit Suisse Group from GBX 375 ($4.90) to GBX 400 ($5.23) in a research report released on Wednesday. They currently have an outperform rating on the stock.
RTO has been the topic of several other research reports. JPMorgan Chase & Co. restated an overweight rating on shares of Rentokil Initial in a research note on Friday, November 23rd. Deutsche Bank boosted their target price on Rentokil Initial from GBX 320 ($4.18) to GBX 325 ($4.25) and gave the company a hold rating in a research note on Friday, August 17th. Finally, Peel Hunt restated an add rating on shares of Rentokil Initial in a research note on Monday, October 15th. Five analysts have rated the stock with a hold rating and six have issued a buy rating to the stock. The company currently has an average rating of Buy and a consensus target price of GBX 365 ($4.77).
Shares of RTO opened at GBX 331.60 ($4.33) on Wednesday. Rentokil Initial has a 52-week low of GBX 238.20 ($3.11) and a 52-week high of GBX 338.80 ($4.43).
About Rentokil Initial
Rentokil Initial plc, through its subsidiaries, provides route-based services in North America, the United Kingdom, Europe, Asia, Pacific, and rest of world. It offers a range of pest control services from rodents to flying insects, as well as to other forms of wildlife management for commercial and residential customers.
See Also: Cost of equity and a company's balance sheet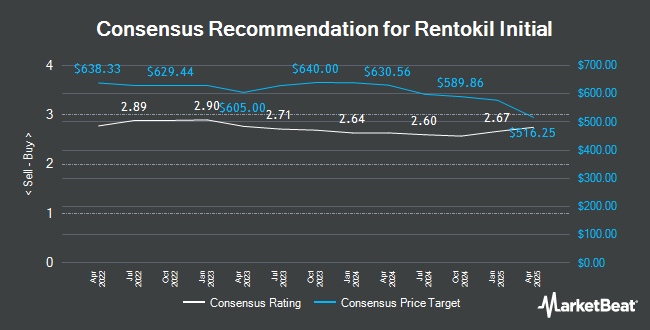 Receive News & Ratings for Rentokil Initial Daily - Enter your email address below to receive a concise daily summary of the latest news and analysts' ratings for Rentokil Initial and related companies with MarketBeat.com's FREE daily email newsletter.