Micron Solutions Inc (MICR) Director Buys $73,600.00 in Stock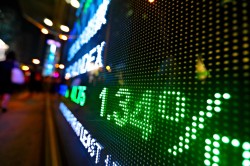 Micron Solutions Inc (NYSEAMERICAN:MICR) Director Jason Russell Chambers purchased 23,000 shares of the firm's stock in a transaction that occurred on Friday, December 14th. The stock was purchased at an average price of $3.20 per share, for a total transaction of $73,600.00. The transaction was disclosed in a filing with the SEC, which is accessible through the SEC website.
NYSEAMERICAN:MICR opened at $3.15 on Tuesday. Micron Solutions Inc has a 1-year low of $2.88 and a 1-year high of $3.96.
Micron Solutions (NYSEAMERICAN:MICR) last released its earnings results on Tuesday, November 13th. The company reported ($0.03) earnings per share for the quarter. The business had revenue of $5.00 million during the quarter.
An institutional investor recently raised its position in Micron Solutions stock. Shepherd Kaplan Krochuk LLC lifted its holdings in shares of Micron Solutions Inc (NYSEAMERICAN:MICR) by 55.1% during the third quarter, according to the company in its most recent Form 13F filing with the Securities and Exchange Commission (SEC). The firm owned 45,648 shares of the company's stock after purchasing an additional 16,219 shares during the quarter. Shepherd Kaplan Krochuk LLC owned 1.60% of Micron Solutions worth $160,000 at the end of the most recent quarter.
ILLEGAL ACTIVITY WARNING: This news story was originally reported by Daily Political and is the sole property of of Daily Political. If you are accessing this news story on another site, it was stolen and reposted in violation of United States & international copyright & trademark law. The legal version of this news story can be viewed at https://www.dailypolitical.com/2018/12/18/micron-solutions-inc-micr-director-buys-73600-00-in-stock.html.
Micron Solutions Company Profile
Micron Solutions, Inc, through its subsidiary, Micron Products, Inc, operates as a contract manufacturing organization that produces medical device components requiring precision machining and injection molding in the United States, Asia, Europe, Canada, and internationally. The company also manufactures components, devices, and equipment for military, law enforcement, automotive, and consumer product applications.
Featured Article: When is a capital gain realized?
Receive News & Ratings for Micron Solutions Daily - Enter your email address below to receive a concise daily summary of the latest news and analysts' ratings for Micron Solutions and related companies with MarketBeat.com's FREE daily email newsletter.