Green Plains (GPRE) Scheduled to Post Earnings on Monday
Green Plains (NASDAQ:GPRE) will post its quarterly earnings results before the market opens on Monday, February 11th. Analysts expect Green Plains to post earnings of ($0.04) per share for the quarter. Individual that wish to register for the company's earnings conference call can do so using this link.
Green Plains (NASDAQ:GPRE) last announced its earnings results on Wednesday, November 7th. The specialty chemicals company reported ($0.31) EPS for the quarter, missing the consensus estimate of ($0.12) by ($0.19). The company had revenue of $1 billion for the quarter, compared to analysts' expectations of $996.40 million. Green Plains had a net margin of 0.23% and a negative return on equity of 4.22%. The business's quarterly revenue was up 11.0% compared to the same quarter last year. During the same quarter in the previous year, the business posted ($0.18) earnings per share. On average, analysts expect Green Plains to post $-1 EPS for the current fiscal year and $0 EPS for the next fiscal year.
Shares of NASDAQ:GPRE opened at $13.38 on Friday. The stock has a market cap of $568.62 million, a P/E ratio of -15.56, a P/E/G ratio of 10.56 and a beta of 1.25. The company has a current ratio of 1.37, a quick ratio of 0.49 and a debt-to-equity ratio of 0.76. Green Plains has a one year low of $12.00 and a one year high of $21.90.
The business also recently announced a quarterly dividend, which will be paid on Friday, March 15th. Investors of record on Friday, February 22nd will be issued a dividend of $0.12 per share. The ex-dividend date of this dividend is Thursday, February 21st. This represents a $0.48 annualized dividend and a dividend yield of 3.59%. Green Plains's payout ratio is currently -55.81%.
In other Green Plains news, EVP Walter S. Cronin sold 3,000 shares of the firm's stock in a transaction that occurred on Wednesday, November 21st. The stock was sold at an average price of $16.48, for a total transaction of $49,440.00. Following the completion of the sale, the executive vice president now owns 50,089 shares in the company, valued at approximately $825,466.72. The sale was disclosed in a legal filing with the SEC, which is available through the SEC website. Also, insider Michelle Mapes sold 7,000 shares of the firm's stock in a transaction that occurred on Friday, November 16th. The shares were sold at an average price of $17.14, for a total value of $119,980.00. Following the sale, the insider now owns 42,419 shares of the company's stock, valued at approximately $727,061.66. The disclosure for this sale can be found here. In the last 90 days, insiders have sold 214,680 shares of company stock valued at $3,365,190. 5.90% of the stock is owned by insiders.
Several equities research analysts recently commented on the company. ValuEngine downgraded Green Plains from a "hold" rating to a "sell" rating in a report on Friday. BidaskClub downgraded Green Plains from a "hold" rating to a "sell" rating in a report on Friday, January 11th. TheStreet downgraded Green Plains from a "c" rating to a "d+" rating in a report on Monday, November 12th. Finally, Zacks Investment Research upgraded Green Plains from a "sell" rating to a "hold" rating in a report on Tuesday, November 6th. Two analysts have rated the stock with a sell rating, two have given a hold rating and one has given a buy rating to the stock. Green Plains has a consensus rating of "Hold" and an average target price of $22.50.
WARNING: This piece of content was reported by Daily Political and is the property of of Daily Political. If you are accessing this piece of content on another domain, it was copied illegally and reposted in violation of US and international copyright and trademark legislation. The original version of this piece of content can be viewed at https://www.dailypolitical.com/2019/02/09/green-plains-gpre-scheduled-to-post-earnings-on-monday.html.
About Green Plains
Green Plains Inc produces, markets, and distributes ethanol in the United States and internationally. The company operates through four segments: Ethanol Production; Agribusiness and Energy Services; Food and Ingredients; and Partnership. The Ethanol Production segment produces and sells ethanol, distiller grains, and corn oil.
Recommended Story: How to Invest in the Dividend Aristocrat Index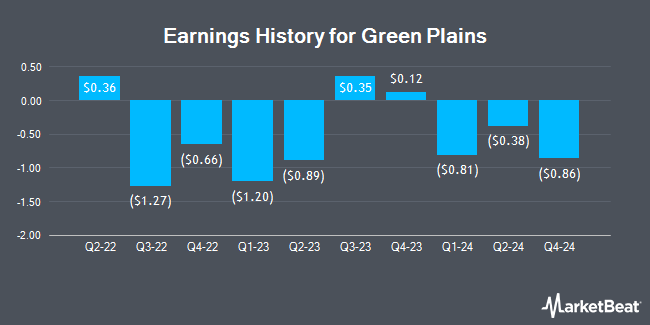 Receive News & Ratings for Green Plains Daily - Enter your email address below to receive a concise daily summary of the latest news and analysts' ratings for Green Plains and related companies with MarketBeat.com's FREE daily email newsletter.