Zacks Investment Research Lowers NIHON KOHDEN CO/ADR (NHNKY) to Hold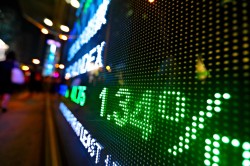 Zacks Investment Research cut shares of NIHON KOHDEN CO/ADR (OTCMKTS:NHNKY) from a buy rating to a hold rating in a research note released on Wednesday.
According to Zacks, "Nihon Kohden Corporation is a Japan-based company engaged in the research, development, manufacture and sale of medical electronic equipment, as well as the provision of maintenance and repair services. The Company offers electroencephalograph, electromyography, evoked potential testing equipment, electrocardiographs, cardiac catheterization equipment, diagnostic information systems and related consumables (paper, electrodes, catheters and others), biological information monitors, clinical information systems, artificial respiration, artificial ear, hemocytometer, ultrasonic diagnostic equipment, research equipment and transformers, among others. The Company is also engaged in the sales promotion for its products, as well as the general affair-related and manpower dispatching businesses. "
Shares of OTCMKTS NHNKY opened at $16.05 on Wednesday. The firm has a market capitalization of $2.85 billion, a PE ratio of 31.47, a P/E/G ratio of 2.93 and a beta of -0.22. NIHON KOHDEN CO/ADR has a fifty-two week low of $12.92 and a fifty-two week high of $16.91.
About NIHON KOHDEN CO/ADR
Nihon Kohden Corporation develops, produces, and sells medical electronic equipment in Japan and internationally. It provides physiological measuring equipment, including electroencephalographs, electrocardiographs, evoked potential and electromyogram measuring systems, and polygraphs for cath labs, diagnostic information systems, and related consumables, such as recording paper, electrodes and catheters, and maintenance services.
Featured Story: Preferred Stock
Get a free copy of the Zacks research report on NIHON KOHDEN CO/ADR (NHNKY)
For more information about research offerings from Zacks Investment Research, visit Zacks.com
Receive News & Ratings for NIHON KOHDEN CO/ADR Daily - Enter your email address below to receive a concise daily summary of the latest news and analysts' ratings for NIHON KOHDEN CO/ADR and related companies with MarketBeat.com's FREE daily email newsletter.