Coin Hodl (OTCMKTS:MXRSF) Shares Down 10.9%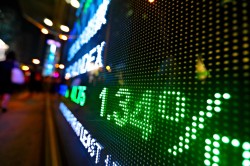 Coin Hodl Inc (OTCMKTS:MXRSF) traded down 10.9% on Tuesday . The company traded as low as $0.12 and last traded at $0.12, 110 shares traded hands during trading. A decline of 94% from the average session volume of 1,895 shares. The stock had previously closed at $0.13.
The stock has a 50-day simple moving average of $0.12 and a two-hundred day simple moving average of $0.11.
Coin Hodl Company Profile (OTCMKTS:MXRSF)
Coin Hodl Inc operates as a merchant banking and financial advisory company. It engages in the digital currency investment and direct equity investment activities. The company is based in Toronto, Canada.
Featured Article: How to Invest in a Bull Market
Receive News & Ratings for Coin Hodl Daily - Enter your email address below to receive a concise daily summary of the latest news and analysts' ratings for Coin Hodl and related companies with MarketBeat.com's FREE daily email newsletter.