Brigham Minerals Inc (NYSE:MNRL) Expected to Announce Quarterly Sales of $28.38 Million
December 15th, 2019 -
Comments Off

on Brigham Minerals Inc (NYSE:MNRL) Expected to Announce Quarterly Sales of $28.38 Million
-
Filed Under
- by
Latisha Jones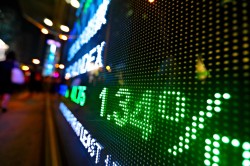 Wall Street brokerages expect that Brigham Minerals Inc (NYSE:MNRL) will report $28.38 million in sales for the current quarter, Zacks Investment Research reports. Five analysts have provided estimates for Brigham Minerals' earnings. The lowest sales estimate is $24.80 million and the highest is $31.00 million. The business is expected to announce its next earnings report on Thursday, February 6th.
On average, analysts expect that Brigham Minerals will report full year sales of $95.95 million for the current year, with estimates ranging from $91.80 million to $98.00 million. For the next financial year, analysts expect that the business will report sales of $127.37 million, with estimates ranging from $103.30 million to $140.00 million. Zacks Investment Research's sales calculations are a mean average based on a survey of sell-side research analysts that that provide coverage for Brigham Minerals.
Brigham Minerals (NYSE:MNRL) last released its quarterly earnings results on Thursday, November 7th. The company reported $0.14 EPS for the quarter, missing the Thomson Reuters' consensus estimate of $0.19 by ($0.05). The company had revenue of $25.11 million during the quarter, compared to the consensus estimate of $25.50 million.
MNRL has been the subject of several recent research reports. Wells Fargo & Co dropped their price target on Brigham Minerals from $24.00 to $22.00 and set an "outperform" rating for the company in a research report on Tuesday, October 15th.
Zacks Investment Research
raised shares of Brigham Minerals from a "sell" rating to a "hold" rating in a research note on Saturday, November 9th. Finally, Capital One Financial began coverage on shares of Brigham Minerals in a research note on Friday, October 18th. They issued an "overweight" rating and a $23.00 price objective for the company. One investment analyst has rated the stock with a hold rating, ten have assigned a buy rating and one has issued a strong buy rating to the company. Brigham Minerals currently has a consensus rating of "Buy" and a consensus target price of $25.08.
MNRL traded up $0.30 on Thursday, hitting $18.60. The company had a trading volume of 916,810 shares, compared to its average volume of 552,117. Brigham Minerals has a 12-month low of $17.51 and a 12-month high of $23.29. The company has a current ratio of 7.07, a quick ratio of 7.07 and a debt-to-equity ratio of 0.76. The business's fifty day simple moving average is $19.49 and its 200 day simple moving average is $20.20.
The company also recently disclosed a quarterly dividend, which was paid on Wednesday, November 27th. Shareholders of record on Wednesday, November 20th were paid a $0.33 dividend. This represents a $1.32 annualized dividend and a yield of 7.10%. The ex-dividend date of this dividend was Tuesday, November 19th.
Hedge funds and other institutional investors have recently made changes to their positions in the business. Warburg Pincus LLC bought a new position in Brigham Minerals in the second quarter worth approximately $275,554,000. Nuveen Asset Management LLC bought a new position in Brigham Minerals in the second quarter worth approximately $19,202,000. BlackRock Inc. bought a new position in Brigham Minerals in the second quarter worth approximately $16,834,000. CIBC Private Wealth Group LLC raised its stake in Brigham Minerals by 31.8% in the third quarter. CIBC Private Wealth Group LLC now owns 650,987 shares of the company's stock worth $12,955,000 after buying an additional 157,055 shares in the last quarter. Finally, Vanguard Group Inc. bought a new position in Brigham Minerals in the second quarter worth approximately $12,755,000. 43.29% of the stock is owned by institutional investors and hedge funds.
About Brigham Minerals
Brigham Minerals, Inc owns and operates a portfolio of mineral and royalty interests in the continental United States. The company primarily holds mineral and royalty interests in the Permian Basin in West Texas and New Mexico; the SCOOP/STACK plays in the Anadarko Basin of Oklahoma; the Denver-Julesburg Basin in Colorado; and Wyoming and the Williston Basin in North Dakota.
See Also: Why Invest in Dividend Achievers?
Get a free copy of the Zacks research report on Brigham Minerals (MNRL)
For more information about research offerings from Zacks Investment Research, visit Zacks.com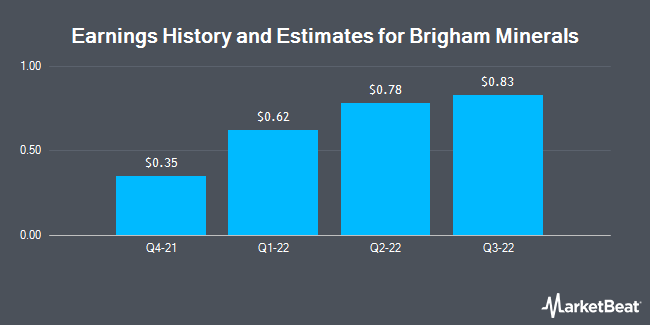 Receive News & Ratings for Brigham Minerals Daily - Enter your email address below to receive a concise daily summary of the latest news and analysts' ratings for Brigham Minerals and related companies with MarketBeat.com's FREE daily email newsletter.