HAZER Group (ASX:HZR) Stock Price Down 4.4%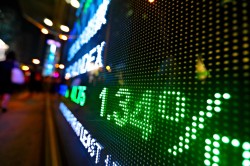 HAZER Group Limited (ASX:HZR) dropped 4.4% during mid-day trading on Friday . The company traded as low as A$0.43 ($0.30) and last traded at A$0.43 ($0.30), approximately 144,911 shares changed hands during trading. The stock had previously closed at A$0.45 ($0.32).
The firm's 50 day moving average is A$0.41. The firm has a market cap of $41.82 million and a PE ratio of -9.15.
In other HAZER Group news, insider Andrew Harris 575,000 shares of HAZER Group stock in a transaction that occurred on Thursday, December 5th.
About HAZER Group
(
ASX:HZR
)
Hazer Group Limited commercializes Hazer Process, a hydrogen-and-graphite production technology in India. It enables the conversion of natural gas and similar feed stocks, into hydrogen and graphite, using iron ore as a process catalyst. The company serves the industrial hydrogen, hydrogen energy, and synthetic graphite markets.
Recommended Story: What is the price-to-earnings growth (PEG) ratio?
Receive News & Ratings for HAZER Group Daily - Enter your email address below to receive a concise daily summary of the latest news and analysts' ratings for HAZER Group and related companies with MarketBeat.com's FREE daily email newsletter.