Brokerages Expect Northwest Bancshares, Inc. (NASDAQ:NWBI) to Announce $0.23 Earnings Per Share
January 14th, 2021 -
Comments Off

on Brokerages Expect Northwest Bancshares, Inc. (NASDAQ:NWBI) to Announce $0.23 Earnings Per Share
-
Filed Under
- by
Tyrone Williams
Wall Street analysts expect Northwest Bancshares, Inc. (NASDAQ:NWBI) to announce earnings per share (EPS) of $0.23 for the current fiscal quarter, Zacks Investment Research reports. Four analysts have provided estimates for Northwest Bancshares' earnings. The highest EPS estimate is $0.26 and the lowest is $0.22. Northwest Bancshares reported earnings per share of $0.24 during the same quarter last year, which indicates a negative year-over-year growth rate of 4.2%. The business is scheduled to issue its next quarterly earnings results on Monday, January 25th.
On average, analysts expect that Northwest Bancshares will report full-year earnings of $0.62 per share for the current fiscal year, with EPS estimates ranging from $0.56 to $0.74. For the next fiscal year, analysts anticipate that the company will post earnings of $0.98 per share, with EPS estimates ranging from $0.79 to $1.13. Zacks' earnings per share averages are an average based on a survey of research analysts that that provide coverage for Northwest Bancshares.
Northwest Bancshares (NASDAQ:NWBI) last announced its earnings results on Saturday, October 31st. The savings and loans company reported $0.30 earnings per share (EPS) for the quarter, topping the Zacks' consensus estimate of $0.25 by $0.05. Northwest Bancshares had a return on equity of 7.20% and a net margin of 11.80%. The business had revenue of $140.20 million for the quarter, compared to analyst estimates of $135.44 million.
NWBI has been the topic of a number of analyst reports. Stephens initiated coverage on Northwest Bancshares in a research report on Wednesday, October 14th. They set an "equal weight" rating and a $11.00 target price on the stock. BidaskClub raised Northwest Bancshares from a "buy" rating to a "strong-buy" rating in a report on Monday, December 28th. Piper Sandler raised Northwest Bancshares from an "underweight" rating to a "neutral" rating and set a $10.00 price objective for the company in a report on Tuesday, October 27th. B. Riley boosted their price objective on Northwest Bancshares from $14.00 to $15.00 and gave the company a "buy" rating in a report on Thursday, January 7th. Finally, TheStreet raised Northwest Bancshares from a "c+" rating to a "b" rating in a report on Tuesday, November 10th. Six research analysts have rated the stock with a hold rating, one has given a buy rating and one has given a strong buy rating to the stock. The stock currently has a consensus rating of "Hold" and a consensus target price of $13.50.
Shares of NASDAQ NWBI opened at $14.01 on Thursday. Northwest Bancshares has a 1 year low of $8.52 and a 1 year high of $16.61. The firm has a market cap of $1.79 billion, a price-to-earnings ratio of 24.71 and a beta of 0.67. The company has a debt-to-equity ratio of 0.34, a quick ratio of 0.99 and a current ratio of 0.99. The stock's 50-day simple moving average is $12.66 and its 200-day simple moving average is $10.82.
In related news, EVP Mark T. Reitzes bought 3,000 shares of the firm's stock in a transaction on Wednesday, October 28th. The stock was bought at an average cost of $10.42 per share, for a total transaction of $31,260.00. Following the completion of the purchase, the executive vice president now directly owns 3,625 shares in the company, valued at approximately $37,772.50. The purchase was disclosed in a filing with the Securities & Exchange Commission, which is available through this hyperlink. Also, Director John P. Meegan sold 6,000 shares of Northwest Bancshares stock in a transaction that occurred on Wednesday, December 9th. The shares were sold at an average price of $12.56, for a total value of $75,360.00. Over the last three months, insiders purchased 14,700 shares of company stock valued at $156,701. 1.20% of the stock is owned by corporate insiders.
A number of hedge funds have recently modified their holdings of NWBI. Clear Harbor Asset Management LLC acquired a new stake in shares of Northwest Bancshares in the third quarter valued at about $34,000. Fiduciary Planning LLC acquired a new position in Northwest Bancshares during the third quarter valued at $42,000. Jane Street Group LLC acquired a new position in Northwest Bancshares during the third quarter valued at $116,000. Paloma Partners Management Co acquired a new position in Northwest Bancshares during the third quarter valued at $119,000. Finally, First Citizens Bank & Trust Co. acquired a new position in Northwest Bancshares during the fourth quarter valued at $130,000. Institutional investors own 58.64% of the company's stock.
About Northwest Bancshares
Northwest Bancshares, Inc operates as a holding company for Northwest Bank that offers various personal and business banking solutions. The company accepts various deposits, such as checking, savings, money market deposit, term certificate, and individual retirement accounts. Its loan products include one-to-four family residential real estate, short-term consumer, multi-family residential and commercial real estate, commercial business, and residential mortgage loans; home equity lines of credit; and consumer loans comprising automobile, sales finance, unsecured personal, and credit card loans, as well as loans secured by deposit accounts.
Read More: Consumer Price Index (CPI)
Get a free copy of the Zacks research report on Northwest Bancshares (NWBI)
For more information about research offerings from Zacks Investment Research, visit Zacks.com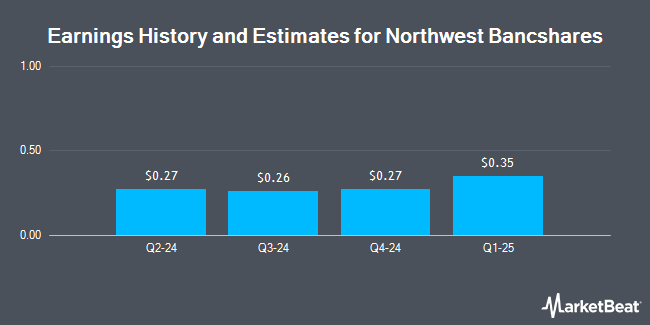 Receive News & Ratings for Northwest Bancshares Daily - Enter your email address below to receive a concise daily summary of the latest news and analysts' ratings for Northwest Bancshares and related companies with MarketBeat.com's FREE daily email newsletter.