Equities research analysts predict that Terex Co. (NYSE:TEX – Get Rating) will announce $1.08 billion in sales for the current quarter, Zacks Investment Research reports. Seven analysts have made estimates for Terex's earnings, with estimates ranging from $1.01 billion to $1.14 billion. Terex posted sales of $1.04 billion during the same quarter last year, which suggests a positive year over year growth rate of 3.8%. The company is scheduled to announce its next earnings report on Monday, January 1st.
According to Zacks, analysts expect that Terex will report full-year sales of $4.24 billion for the current fiscal year, with estimates ranging from $4.16 billion to $4.32 billion. For the next fiscal year, analysts forecast that the business will report sales of $4.62 billion, with estimates ranging from $4.46 billion to $4.70 billion. Zacks Investment Research's sales averages are a mean average based on a survey of sell-side research analysts that follow Terex.
Terex (NYSE:TEX – Get Rating) last announced its earnings results on Thursday, April 28th. The industrial products company reported $0.74 earnings per share (EPS) for the quarter, beating analysts' consensus estimates of $0.47 by $0.27. Terex had a net margin of 5.78% and a return on equity of 21.36%. The firm had revenue of $1 billion during the quarter, compared to analyst estimates of $979.13 million.
TEX has been the subject of several research reports. Bank of America raised Terex from a "neutral" rating to a "buy" rating and reduced their target price for the stock from $41.00 to $38.00 in a research report on Friday, May 13th. The Goldman Sachs Group decreased their target price on Terex from $48.00 to $41.00 and set a "neutral" rating for the company in a research report on Thursday, April 14th. Wells Fargo & Company initiated coverage on Terex in a research note on Friday, March 11th. They issued an "overweight" rating and a $64.00 target price on the stock.
StockNews.com
assumed coverage on Terex in a report on Thursday, March 31st. They set a "hold" rating on the stock. Finally, Deutsche Bank Aktiengesellschaft decreased their price objective on Terex from $65.00 to $61.00 in a report on Monday, May 2nd. Seven analysts have rated the stock with a hold rating and eight have issued a buy rating to the stock. According to MarketBeat.com, Terex has an average rating of "Buy" and an average price target of $52.69.
In related news, VP Scott Posner sold 3,853 shares of the firm's stock in a transaction on Tuesday, March 8th. The stock was sold at an average price of $36.14, for a total value of $139,247.42. The sale was disclosed in a legal filing with the SEC, which is available through this link. 2.90% of the stock is currently owned by company insiders.
Several large investors have recently made changes to their positions in TEX. Cubist Systematic Strategies LLC raised its stake in shares of Terex by 82.5% during the third quarter. Cubist Systematic Strategies LLC now owns 237,373 shares of the industrial products company's stock valued at $9,993,000 after acquiring an additional 107,295 shares in the last quarter. Mirae Asset Global Investments Co. Ltd. increased its holdings in Terex by 15.6% during the fourth quarter. Mirae Asset Global Investments Co. Ltd. now owns 396,256 shares of the industrial products company's stock valued at $17,415,000 after buying an additional 53,457 shares during the period. C M Bidwell & Associates Ltd. purchased a new position in Terex in the third quarter worth $227,000. Confluence Wealth Services Inc. purchased a new position in Terex in the fourth quarter worth $987,000. Finally, Brinker Capital Investments LLC purchased a new position in Terex in the fourth quarter worth $327,000. 85.46% of the stock is owned by hedge funds and other institutional investors.
NYSE:TEX traded down $0.70 during mid-day trading on Monday, reaching $31.69. The stock had a trading volume of 721,047 shares, compared to its average volume of 869,080. Terex has a fifty-two week low of $30.67 and a fifty-two week high of $54.25. The company has a debt-to-equity ratio of 0.66, a current ratio of 2.00 and a quick ratio of 0.99. The business's 50 day moving average is $35.20 and its 200 day moving average is $40.77. The stock has a market cap of $2.20 billion, a P/E ratio of 9.66, a PEG ratio of 0.48 and a beta of 1.51.
The company also recently declared a quarterly dividend, which will be paid on Tuesday, June 21st. Stockholders of record on Monday, June 6th will be issued a dividend of $0.13 per share. The ex-dividend date is Friday, June 3rd. This represents a $0.52 annualized dividend and a dividend yield of 1.64%. Terex's payout ratio is 15.85%.
Terex Company Profile (Get Rating)
Terex Corporation manufactures and sells aerial work platforms and materials processing machinery worldwide. It operates in two segments, Aerial Work Platforms (AWP) and Materials Processing (MP). The AWP segment designs, manufactures, services, and markets aerial work platform equipment, utility equipment, and telehandlers under the Terex and Genie brands.
Featured Articles
Get a free copy of the Zacks research report on Terex (TEX)
For more information about research offerings from Zacks Investment Research, visit Zacks.com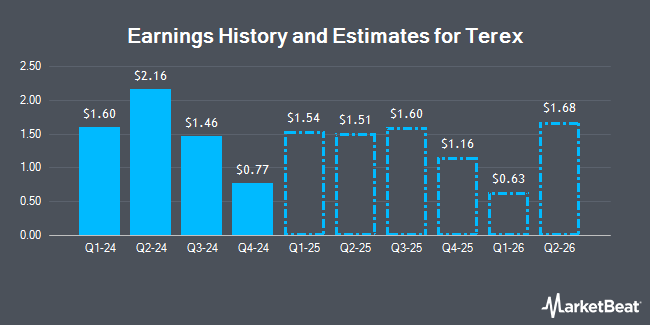 Receive News & Ratings for Terex Daily - Enter your email address below to receive a concise daily summary of the latest news and analysts' ratings for Terex and related companies with MarketBeat.com's FREE daily email newsletter.