Thrive Wealth Management LLC purchased a new position in OmniAb, Inc. (NASDAQ:OABI – Free Report) in the 2nd quarter, according to the company in its most recent Form 13F filing with the Securities and Exchange Commission (SEC). The firm purchased 14,131 shares of the company's stock, valued at approximately $71,000.
A number of other large investors have also modified their holdings of the business. Woodstock Corp acquired a new stake in OmniAb in the 2nd quarter worth approximately $3,412,000. Prelude Capital Management LLC purchased a new stake in shares of OmniAb during the first quarter valued at $140,000. Legato Capital Management LLC acquired a new position in shares of OmniAb in the 1st quarter valued at $68,000. AWH Capital L.P. purchased a new position in OmniAb in the 1st quarter worth $1,527,000. Finally, Ameriprise Financial Inc. acquired a new stake in OmniAb during the 1st quarter worth about $165,000. Hedge funds and other institutional investors own 58.73% of the company's stock.
OmniAb Stock Down 1.5 %
Shares of OABI opened at $5.11 on Tuesday. The company has a market capitalization of $593.63 million, a price-to-earnings ratio of -22.22 and a beta of -0.55. OmniAb, Inc. has a 52 week low of $1.91 and a 52 week high of $10.50. The stock's 50-day moving average price is $5.44 and its 200-day moving average price is $4.49.
OmniAb (
NASDAQ:OABI
–
Get Free Report
) last released its quarterly earnings data on Thursday, August 10th. The company reported ($0.15) EPS for the quarter, missing the consensus estimate of ($0.11) by ($0.04). The business had revenue of $6.95 million during the quarter, compared to analyst estimates of $13.05 million. As a group, equities analysts anticipate that OmniAb, Inc. will post -0.45 EPS for the current fiscal year.
Wall Street Analyst Weigh In
Separately, HC Wainwright reissued a "buy" rating and issued a $11.00 price objective on shares of OmniAb in a report on Friday, August 11th. Nine investment analysts have rated the stock with a buy rating, According to data from MarketBeat.com, OmniAb has a consensus rating of "Buy" and an average price target of $10.00.
Read Our Latest Stock Analysis on OABI
Insider Activity at OmniAb
In other news, CEO Matthew W. Foehr acquired 45,000 shares of the firm's stock in a transaction on Monday, August 14th. The stock was acquired at an average price of $5.48 per share, for a total transaction of $246,600.00. Following the completion of the transaction, the chief executive officer now owns 2,332,919 shares in the company, valued at approximately $12,784,396.12. The acquisition was disclosed in a legal filing with the SEC, which can be accessed through this link. 7.00% of the stock is owned by company insiders.
About OmniAb
OmniAb, Inc, a biotechnology company, engages in the provision of therapeutic antibody discovery technologies in the United States. The company's discovery platform creates and screens diverse antibody repertoires and identify optimal antibodies for partners' drug development efforts. Its OmniAb platform is the biological intelligence of proprietary transgenic animals, including OmniRat, OmniChicken, and OmniMouse that have been genetically modified to generate antibodies with human sequences to facilitate development of human therapeutic candidates.
Read More
Want to see what other hedge funds are holding OABI? Visit HoldingsChannel.com to get the latest 13F filings and insider trades for OmniAb, Inc. (NASDAQ:OABI – Free Report).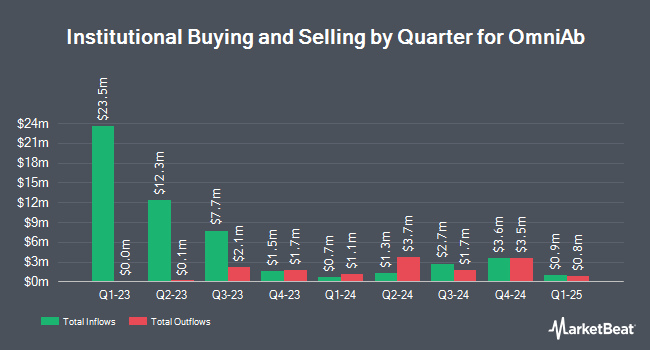 Receive News & Ratings for OmniAb Daily - Enter your email address below to receive a concise daily summary of the latest news and analysts' ratings for OmniAb and related companies with MarketBeat.com's FREE daily email newsletter.